Sizzling Fishing Under the Sizzling Sun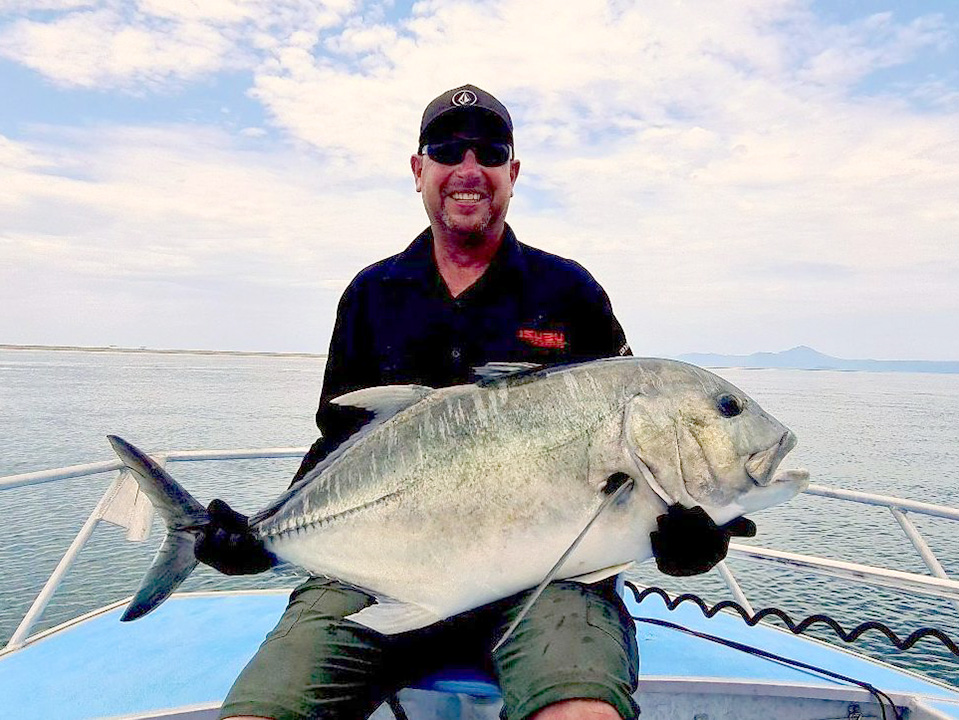 Summer has kicked in early this year by several weeks and shall remain for a little while yet until a genuine rain pattern settles in. To date it has been a warm period in the tropics and it's been a consistent 33 degrees during the day and a balmy 23 degrees at night. It's a guessing game so to speak moving forward and each year seems to be slightly different but the humidity will go to another level.
If you can stand the heat in the kitchen then you are up for a treat in current conditions. As normal at this time of year fish numbers can dwindle just margainly but the quality is right up there. It is like ordering a super sized meal at a famous take away establishment.
I'll rattle off some of it for you - big marlin, spanish mackerel, tuna, giant trevally, red emperor, golden trevally, coral trout, fingermark, mangrove jack, cobia and so much more in the fishing department. You add to this QLD groper at the marina docks in full sight, whale sharks coming to the back of the boat on the reef and a pod of false killer whales letting rip offshore into a big school of sizeable fish. It has been quite eventful to say the least.
The game fishing for big black marlin really kicked into gear late October and it coincided with a shift from the northerly breezes to a south east direction. Even though the billfish were there prior they refused to provide a hot bite. Since then consistent big fish have played the game up to the 1000lb range plus a heap of younger stallions strutting their bravado on the same dance floor. Light game fishing has also been good on similar grounds for the like of yellowfin tuna and wahoo. Our troops are saying at this point mid December will likely be the cut off date for big black marlin unless you are prepared to travel wider for a few hard kicking blue marlin.
On the reef it has all been big stuff of late for bottom fishing. We found on our charter boats that the quality or size of fish were profoundly bigger and numbers were good. For example we were catching regularly 4-5kg coral trout, 7-9kg large mouth nannygai, 6-7kg reef mangrove jack, 12kg spanish mackerel, 5kg spangled emperor, 7kg red emperor, 10kg cobia and 8kg golden trevally just as a sample. Even though there were variable winds a lot of the time and a bit of northerly in it, the fishing for the most remained high quality. Fishing as deep as possible will be our agenda when we can in the coming weeks.
For inshore enthusiasts our wonderful Daintree River has been firing on all cylinders and has been nothing short of dynamic in recent times.There's been numerous days where quality fingermark have been hammering away fishing on certain structure. Live sardines are the choice bait and it has been good luck if any other species got a look in. We are so lucky to have such a ripping fingermark system locally and probably the best on the east coast of Qld I'd go as far to say.
In the deeper parts of the channel we've come across some big golden trevally to 6kg and grunter over 55cm, both excellent sized river fish. The highlight for the month however was mucking around down at the river mouth on the Daintree All the classic signs indicated it was a monster trevally and after some considerable chasing and hot shoe shuffling a 25kg Giant Trevally was the reward. An exceptional fish for anywhere let alone within the river and a deserved fish for Darren Calvett the lucky recipient (pictured).
There's going to be more of this coming up in our show piece of wonderful fishing in FNQ.
---