COVID-19 decimates Port Douglas fishing scene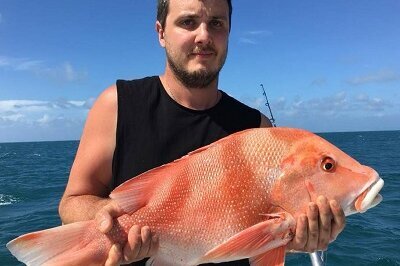 Never in all my time since living in the region since 1996 have I seen such devastation to the area with COVID-19 taking a nationwide sweep and decimating us in the process. Only a bare handful of the local population has been able to continue with some normality. I always feared that a severe cyclone could have a similar effect on the area, but even that possibility has no comparison to what we are experiencing now. Hospitality and tourism, which makes up for a huge percentage of revenue for the shire has literally stopped. I don't know of anyone or any local business which has escaped the enormity of the situation. It has been a lot to absorb and extremely distressing.
Being linked directly to the fishing charter industry I can categorically say we are in a deep freeze for an extended time hopefully with the opportunity to be defrosted at the end. I will comment on the state of play within our industry and what the future may hold.
When the full brunt of the nationwide situation came to light I can categorically say the marine industry was literally shut overnight. All fishing charter boats whether it be game, reef or river were imposed with strict regulations forcing closure. It also applied to the likes of the diving and snorkelling sectors. It was literally closing doors and ceasing operation immediately for all and sundry. To walk around the marina with every single boat docked and not with a soul around was eery to say the least.
Once the QLD government and flight companies banned all travel opportunities to the region it was lights out. Consequently the whole sector ceased and I would envisage 99% of people lost their jobs and revenue streams overnight. The marina hub and associated businesses are a massive employer of the shire and a huge chunk of our society was suddenly left jobless. It has been compared to the pilot strikes back in the late 80's which saw the area crumble. Back then tourism was in its infancy but nowadays it is a juggernaut.
From the boats we are associated with at Fishing Port Douglas we have all been forced to seek government assistance like everyone else. We are working and communicating everyday to minimise any business expenses that we normally incur. This has included banks, insurance companies, also the rental aspect of marina berths and much more.
With our climate turned upside down, at Fishing Port Douglas and our affiliated boats we communicate everyday and offer support to each other. We have every intention of being ready to bounce back immediately whenever that may be. That's all we can hope for and wish everyone in the area the same sentiment.
Let's get back to a bit of fishing, as I can gather there will be many of you with plenty of time on your hands moving forward. With the handful of charters we got in before the shut down, the fishing was quite okay. It is quite obvious that hot , steamy summer is over and changing by the day. We are seeing the south easterly winds return which will soon see a shift in ocean current with cooler waters coming from the south. If I look over my recordings throughout the many years the next month or so can explode with activity and significant numbers of fish caught. Just within the late stages of March we explored a couple of areas which I know will only get better and we got some surprising results. It is not often that you'll see legal red emperor as your main species for the day as just one example. Typically nomadic schools of fish such as the emperor and nannygai will move location according to the currents. These fish will start to spike if you know where to go. Coral trout and other species will still bite consistently in the haunts you've been fishing for over the last few months. My tip I guess is, think southern currents and shift accordingly. Normally we also start to see some better mackerel movement back into the area and I can say the cobia are still continuing really good form.
We'll be back soon to continue further reports and take care everyone in these un-precedented times - a popular term used in every day conversation nowadays.
---