300km of Great Barrier Reef Fishing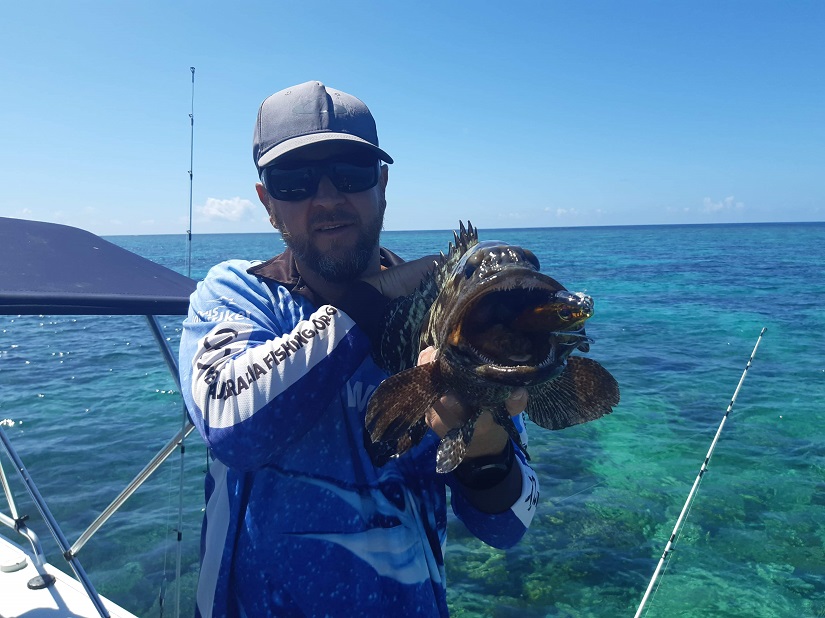 In just two days, a band of 6 of us local weekend warriors travelled and fished 300km (recorded by electronics) of pristine waters along the Great Barrier Reef. Just to give you an indication of the vast distance we covered by water, it is on par with travelling from Melbourne to Albury on the Victorian/ NSW border, or even from Sydney to Canberra. It was a hike that's for sure.
Between three private boats (2 persons per boat due to restrictions) we had father & son combination Dan and Brodie Francis on vessel 1, Dan Musset and Chris Ramsay on vessel 2 plus Pete Brown and myself on vessel 3. Our journey began at 'sparrows' from Port Douglas, an hour before the sun was due to rise. The course would see us head north over a couple of hours before we would wet a line. To be honest the first hour of travelling in complete darkness was very messy with an onshore breeze chopping up the water. Once the sun poked its head up the seas flattened out and it was smooth sailing for the next two days barely getting over 5 knots.
As a collective group we scooted at approx 25 knots for a couple hours before reaching Escape Reef on the outer edge of the reef. From this point each boat did its own program for several hours but keeping in touch by radio for safety purposes. Vessel 1 being pure sportfishing enthusiasts fished over a variety of reefs right up in the shallows using popper and stick bait methods. Vessel 2 ventured out onto the continental shelf for a spot of light tackle trolling. On vessel 3 we did a mixture of trolling, surface lures and bottom bashing moving between reefs including Escape, Rachel Carson and Andersen. Off the main parts of the reef there were always a myriad of isolated bommies to explore as well. Besides the superior water clarity the big notice was the amount of bait schools that were abundant wherever you went. It was an eye opener and presented countless opportunities.
For several hours each boat did its thing before meeting up around mid afternoon. In a nutshell, Pete and I on Vessel 3 got smoked countless times on the outer edge bottom to absolute freight trains including breaking a rod in the process. We caught several species including coral trout, coronation trout and spangled emperor. Also fishing in 60m of water we found a small bump on the bottom which started to deliver some great trout and spangled emperor before the sharks turned up and really spoiled a spot which had great potential. We were spewing as we started pulling up heads of trout which would have been around 6kg in weight.
Our trolling efforts went unrewarded and so did our lure fishing in the shallows. We agreed there was probably too much bait available for a fish to consider an artificial offering. We did however, and this was a highlight in my opinion, have a wonderful swim in absolute crystal clear waters on the top end of Andersen Reef. Swimming below were a dozen coral trout in only a few metres of water but wouldn't accept a bait with a couple of reef sharks also lurking around.
Here we dined on fresh coral trout for lunch on the portable gas cooker with a beer - it doesn't get any better than this, trust me ! It's these particular aspects of a trip which really turn a fishing adventure into a memorable experience.
On this first session Dan & Chris on Vessel 2 caught a yellowfin tuna and some mackerel on the wide grounds. They said the activity was surprisingly slow and came back in to the reef to do some bottom bashing nailing some impressive coral trout.
Dan & Brodie on Vessel 1 said they had an awesome time flicking poppers and stick baits across the reef battling with heavy weight giant trevally, red bass and coral trout.
From here Dan & Brodie shot off back the reefs to continue their surface lure quest for the remainder of the day, whilst we decided on Vessel 2 & 3 to fish together some deep water. We found a bit of a mound in 70m of water in the middle of nowhere, which was interesting considering closer to home it's not often you find any depth of water over 50m on our local reefs.
The current was ripping so we had to anchor some 30m forward of the mark. Even this in this depth it was hard to tell using the heaviest sinkers we had if you were on the bottom or not. Anyway our lines were reaching the schools down below and jobfish, baldy bream, spangled emperor, red emperor and mackerel started to come up regularly to the boats. It was a slug fest pulling fish up from these depths. This bite lasted for about half an hour before drying up.
From here we both headed back to the western side of Andersen Reef and found a string of ground in 35m of water. It was on a contour line and every 50m or so there a good looking bit of structure holding good life on the sounder. From these spots more coral trout, bald bream and spanish mackerel were claimed.
At 4pm we departed ways as Dan & Chris had planned to head home to Port Douglas. It was a huge day for them with a lot travel. They did say afterwards they fished one spot on the way home collecting big time on small and large mouth nannygai.
Pete and I on Vessel 3 were heading west for a 20 mile run where'd we catch up with Vessel 1 and anchor in the Hope Island lagoon for the night. It was a wonderful trip there with the sun slowly hitting the ranges on the last of the Great Dividing Range in the picturesque background.
We both arrived at about 5pm and set the anchors for the evening right next to each other. This last hour or so of sunset is the best time of the day. With a beer or a glass of red, we nattered, picking away at a delightful canape arrangement. Here we learnt that Dan & Brodie had continued a wonderful day tangling with Gt's and more coral trout.
I must say at this point Hope Island and the lagoon would have to be one of the most special places on the entire Barrier Reef system being steeped in rich historical content and an amazing natural beauty. It is similar in size to that of our local Low Isle and roughly the same distance from the mainland. The difference is it is less frequented and has a wonderful feel. Barring what looked like a commercial trout boat anchored in the distance, we had this magical place all to ourselves. The sunset was typically to die for in such calm conditions.
After dark, Dan had already pre-cooked a wonderful Thai Curry cooked throughout the day whilst on the boat in an amazing portable rice cooking steamer designed for camping purposes. It's incredible what modern conveniences are available nowadays only requiring a battery source. After a big, big day on the water we hit the fart sack well before midnight. Young Brodie, who I must say is a fisho mad man, kept wetting a line enticing 3 squid under the boat light.
In the morning the first sign of light was a natural alarm clock and we all surfaced in synchronised fashion. As it eventuated these squid Brodie caught would be lightly crumbed for breakfast done by Dan, as well as egg & bacon wraps in the morning cooked by Pete. A chilled ice coffee drink from the esky would top off a 5 star start to the day.
With glass out conditions on our hands we agreed to venture south to Pickersgill Sand Cay and surrounding reefs, passing the Endeavour Reef where Captain Cook struck trouble 250yrs ago. Pickersgill is easily accessed on a higher tide in a shallow draft boat. It has an adjacent lighthouse which adds to its uniqueness. Here we literally beached the boats and circumnavigated the cay throwing a variety of lures with bait schools getting hammered not from the shore. Seriously imagine the most isolated piece of pure sand, surrounded by the clearest of aqua blue with amazing fringing reef only 100m away. As I've said it is this type of experience which really sets some trips apart from others. Our Footprints alone!
Here we flicked different types of lures at hapless bait schools getting harassed by predators in the shallow sandy waters. Young gun Brodie had the right recipe using a small metal slice ripping it through the water and landed several small Gt's just under a kilo. He certainly can pick a scenario and know what exactly to use.
It was a hard place to leave I must admit, but we then scooted southwards to Evening Reef. Pete and I on Vessel 3 were keen to replicate what the boys had been doing on Vessel 1. Soon afterwards we pulled right up on top of the reef and proceeded to get into it with a favourable tide. Seriously we were only in less than 2m of water. Popper and stickbait lures were the choice weapon. Pete and I lucked out dropping some cracking Gt's and trout. Dan and Brodie had similar form but managed to land some really quality fish. I was amazed that in such skinny water that there were such big fish. We roughly calculated over an hour between the two boats we raised over 40 trout and several Gt's. The fish were doing a lot of swiping at the lures without fully committing. These sorts generally don't miss if they are truly focused. It was however, a real mental note for another time that this reef is loaded with high end fish for this style of fishing. After this session we departed ways as a combination and went and did our own thing gradually moving south homewards with a long way to get back to base. Radio communication ensured all was good.
Pete and I fumbled our way back in the best of weather conditions fishing blindly at the likes of Undine and the bottom of Rudder reefs. We plucked away at a few keeper trout for something to take home. We hit the local boat ramp right on 4.30pm.
It was an epic trip for the amount of distance we travelled in two days and in what you would call a standard trailer boat. We are so, so lucky where we live and this trip only reinforced this. Also importantly it was completed in a very dour period in our time locally, and when the remainder of the country could only dream of doing such a thing.
---